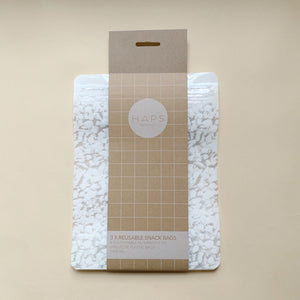 Our recyclable snack bag is a practical and smart alternative to disposable freezer bags.
The reusable snack bags close tightly with a zipper at the top, perfect for various snacks for school, the office, packed lunch, or for storing nuts, oats, or leftover food in the fridge or freezer.
They are easy to clean in the dishwasher and can be reused at least 50 times. Take good care of your Snack bags and they will last much longer.

Use our snack bags instead of disposable freezer bags. They are easy to fill from the top while standing.

Made of PE and PET and tested free from BPA, phthalates, PVC, also approved according to European standards for childrens' and baby food.

The refillable snack bags come in 3 different sizes: 400 ml, 1000 ml, and 5 liters. These 1000ml snack bags come in a pack of 3.
Color: Transparent Terrazzo
Quality: PE/PET
Dimensions: 1000 ml
Washing instructions: Dishwasher safe