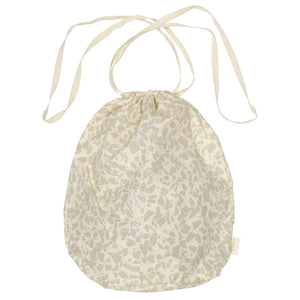 Our big Multibag is designed as an alternative to disposable plastic bags, to protect the environment, and to make it easy to choose a more sustainable and durable product.
This Haps Nordic Multibag is big and strong enough to hold 2kg of potatoes -your perfect all porpuse bag to take along for almost everything.
Use it to store fruit, vegetables or nuts in the kitchen or bring your lunch in a beautifully designed bag.
Or use it in the kids room for dols, building blocks, cars or clothes.

Our round bottomed Multibag with drawstring closure is your perfect companion in the kitchen, for grocery shopping or as your kids gym bag.
Crafted from high-quality organic GOTS-certified cotton, our big multibag is the eco-friendly choice for you and your family.
Our eco-friendly Multibag comes in two sizes.
Color: Oyster Grey Terrazzo
Quality: 100% Organic Cotton GOTS
Dimensions: 35x20x20cm
Washing instructions: 40°C