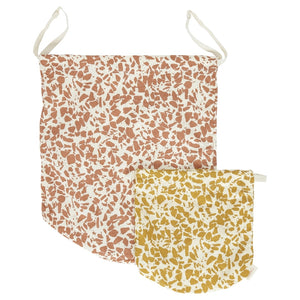 A pack of one small and one large Multibag.
Our round-bottomed Multibags with drawstring closure are your perfect plastic-free companions in your kitchen, for grocery shopping, for snacks, or as your kid's gym bag.
The drawstring at the top makes it easy to open and close, and the string is a perfect length to carry your multibag or hang in the hallway.
All inner seams are secured with strong bias tape for extra longevity.
Crafted from high-quality organic GOTS-certified cotton, our multibags are the eco-friendly choice for you and your family.

Color: Autumn terrazzo
Quality: 100% Organic Cotton GOTS
Dimensions: 20x20x35 cm, 20x14x14 cm
Washing instructions: 40°C